Surrounded:
By rich back country wilderness, lakes, rivers, and forests. You will never run out of things to do, places to explore, and beauty to see.
Area Recreation
The North Fork of the Payette River, with its world-class kayaking rapids, flows to the south of Cascade. A challenging nine-hole golf course graces the southeast shore of the reservoir. During the winter 800 miles of groomed snowmobile trails are available in the area.
Tamarack:
Nestled at the heart of the beautiful Long Valley in west central Idaho, Tamarack is an all-new, all-season destination that redefines the way in which the quality of your outdoor resort and recreation experience will be measured.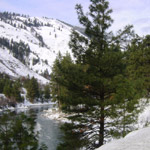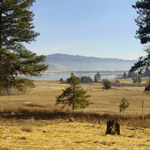 Chris Berry © 2003

Tamarack Idaho
First all season resort to be authorized and permitted in the US in more than 20 years.
Located 100 miles north of Boise, west of Donnelly, and on the shores of Lake Cascade.
The pedestrian formatted Village will feature restaurants, hotels, retail shops, and other services. Construction of the Village will begin in summer of 2004. Grading and excavating has already begun.
McCall:
McCall is a small resort community nestled on the shore of beautiful Payette Lake and is known as one of Idaho's most popular resorts. McCall was founded as a timber town and has grown into a popular year round destination. Located 100 miles north of Boise, McCall is just a two-hour drive along the Payette River Scenic Byway from it's gateway city. McCall is home to Brundage Mountain, Ponderosa State Park, the U.S. Forest Service Smokejumper Base, and the annual Winter Carnival. McCall offers something for everyone through out the year.
Tamarack:
Tamarack's vision is to offer a wide range of activities for sports and nature enthusiasts. The outstanding regional climate is ideal for a "year-round" recreational season. Winter snows here provide quality and depth greater than Aspen, Vail or Sun Valley. Summer days are clear with three times fewer rainy ones than most destination resorts in the Rockies. Longer, golden autumns bring little snow and mild weather, ideal for hunting, hiking and an extended golf season.